8 Entertaining Ideas To Spend Nightlife in Da Nang.
---
---
Nightlife in Da Nang boasts a collection of swanky rooftop bars, sophisticated lounges, friendly expat bars, and vibrant nightclubs where fun-loving travelers can enjoy a night out with like-minded locals. Da Nang's most popular nightlife spots often stay open as late as 03:00, featuring talented DJs spinning funk, EDM, house, and trance tunes as well as live bands covering your favorite classic rock songs.   From exquisite wines and aged whiskeys to local beers and exotic cocktails, you'll be glad to know that drinks in Da Nang's bars and pubs are cheap according to European standards. Whether you're looking to catch the latest sports matches or dance until the wee hours of the morning, our comprehensive list of 10 best nightlife in Da Nang caters to any budget and preference. If you find any problem to reach out here, Tooreest app is there for you to help by giving you a safe and credible guided services.
Sky36 Club at Novotel Danang Premier Han River
Among many bars symbolizing for Da Nang nightlife, the Sky36 gives you wonderful scenery of Da Nang as well as a good view of the Da Nang bridges. This bar is situated at the top of Novotel hotel which is Riverside. It is reckoned as the highest sky bar in Vietnam that provides customers with the most extravagant and luxurious entertainment experiences in Da Nang. Also, it is the hottest destination and the most sought thing after Da Nang nightlife. Really, the views from Sky36 Bar are worth enjoying. If you want to enjoy a nice view over Da Nang city, then this is your ideal choice.
On the other hand, the cocktail list is diversified and the music is trendy and loud, yet not so loud that customers could not have a conversation, as many other bars and pubs often are. In general, Sky36 is a fantastic location with professional service. Not mention to the extensive menu, the impressive performance of leading bartenders will surely create excitement for you and other guests.
Opening Hours: 6 pm – 2 am daily
Address: No. 36 Bach Dang (Bạch Đằng) street, Hai Chau (Hải Châu) district, Da Nang City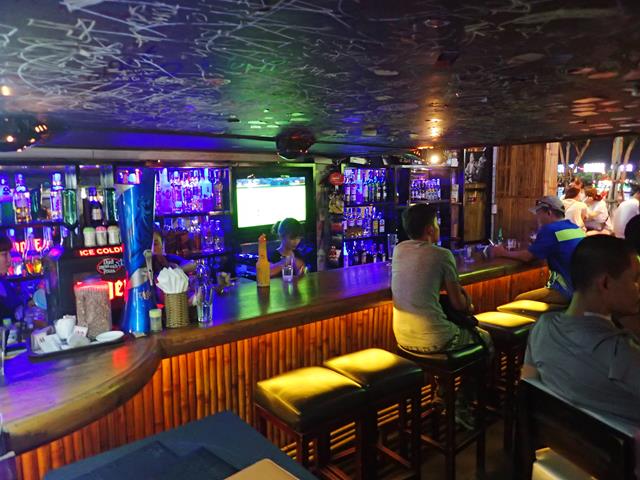 This bar has an electric menu of specialty cocktails, including something for every taste. From fruity to strong, this bar offers something for everyone. Or, if you have your own recipe, the servers here can also make it.
Located at 216 Bach Dang (Bạch Đằng) Street, Bamboo2 Bar is rather new and has total three floors overlooking the Han River. Actually, it is a pleasant place for tourists and locals to spend an evening. This small bar has a pool table on the third floor and several tables along with chairs out the front.
There are most sports available live on the 3flat screen TV, including NRL, AFL, Premier League, F1, Cricket, Rugby Union, Tennis, and other sports on request.
Additionally, there is a variety of beers and ciders, both bottled or on tap, severed in this bar.
Considered as the first expat/backpackers bar in Da Nang, the main language spoken here is English and most music played here is from a large selection of English. The original BamBoo Bar existed in Da Nang for more than 10 years yet for some reasons: it was mostly only known to those living in Da Nang and it was hard to find for tourists. However, the current Bamboo2 Bar has the better location than the original one and is easy to find. Bamboo2 Bar is decorated with graffiti from past patrons on the wall, and a sturdy old pool table that seems continually busy.
This bar is often opened from 11 am and closed mostly depending on the clients.
The staffs are friendly, fun and can speak English better than other waitresses you could find in Da Nang.
Opening hours: 10:00 am – 2:00 am daily
Location: No. 216 Bach Dang (Bạch Đằng) Street, Phuoc Ninh (Phước Ninh), Da Nang City
The Golden Pine Bar in Da Nang is one of the most interesting places when it comes to Da Nang nightlife. This is the most popular bar in Da Nang with a funny Vietnamese and Expat mingled public. In addition to the ideal atmosphere, the exciting parties, dancing on the bar, great pool table and sexy girls are what make this bar standing out from others. The staffs are friendly, service-minded and always ready for a joke.
The Golden Pine Bar has a relatively large food menu and serves with good western favorites.
Mr. Hiep (Hiệp), the owner of this bar managed to turn it into a great place for celebrating parties that customers could dance and have fun until the early morning. Normally, the crowd starts coming from 9 am to 10 pm. It is said that about 80% of guests are Vietnamese, and the rest are expats and foreign tourists.
Opening hours: 9 am – 10 pm daily
Location: No. 52 Bach Dang (Bạch Đằng) Street, Da Nang City
SOHO Bar is another ideal destination for an impressive Da Nang nightlife. SOHO bar serves customers with fantastic beverages special for Friday nights and events. Featuring with a large space, having a stage for live music, a dart board, foosball table and pool table, this bar has hosted a lot of special events and parties in Da Nang. The staffs here are friendly, attentive and will be very happy to have a chat with customers. Also, they are good at speaking English, so it is very easy for customers to chat with. Besides, SOHO Bar severs a small menu of Mexican food and other bar snacks. In addition to Mexican food, you could also order Thai food right from the restaurant upstairs.
Opening hours: 11:00 am – 1:00 am daily
Location: No.463 Tran Hung Dao (Trần Hưng Đạo) Street, Da Nang City
This bar is known as a complete place with nice music, great drinks, nice staff, and unique decoration so that it is perfect for hanging out with friends or simply indulging yourself in your inner thoughts. It is not large but you could come and have a comfortable seat at the corner, gazing via the window at the outside, or watching people inside.
Location: No.29 Ngo Gia Tu (Ngô Gia Tự) Street, Da Nang
New Phuong Dong Nightclub
New Phuong Dong (Phương Đông Mới) Nightclub is considered as the largest as well as newest clubs in Da Nang. This club is situated in the city center and regularly hosts joyful parties with well-known Vietnamese DJs. Also, it has a lounge area, which offers the chilling and relaxing atmosphere for every customer. Additionally, there is a vibrant dance floor for all dancing enthusiasts.
With impressive decoration and design, New Phuong Dong is an exciting destination for both locals and tourists to explore Da Nang nightlife.
Opening hours: 8 pm – 3 am
Location: No. 20 Dong Da (Đống Đa) Street, Thuan Phuoc (Thuận Phước), Hai Chau (Hải Châu), Da Nang City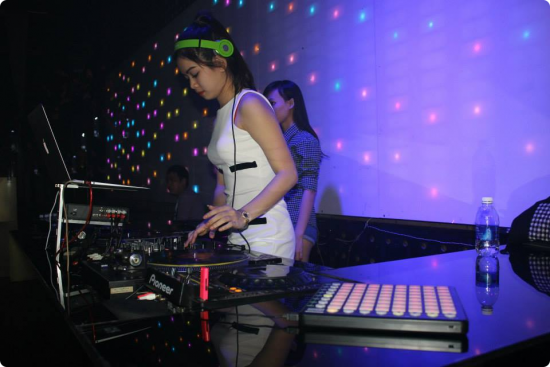 Fashion club is situated rather far from the city center, yet at the same time, it provides customers with a unique chance to explore a non-touristic, different Vietnam. It hosts a lot of parties and welcomes large numbers of guests during weekends as it has a large dance floor and an extensive menu of drinks at really affordable prices.
Opening hours: 20:00 – 02:00 daily
Location: No. 37 Nguyen Tri Phương (Nguyễn Tri Phương), Thac Gian (Thạc Gián), Da Nang City
Luna Pub
Are you fancy of Western culture? If yes, you should not skip Luna Pub. This is a half-restaurant, half-bar and has an extensive Italian menu. After finishing your dinner, move to the bar to have some delicious cocktails and drinks. Every second Tuesday of the month, it hosts a Live Music Open Stage.
Opening hours: 11:30 am – 12 am daily
Location: No.9 Tran Phu (Trần Phú), Thach Thang (Thạch Thang), Da Nang City
Despite there are not too many choices for Da Nang nightlife, you could still enjoy the dynamic atmosphere of this vibrant city at night by taking part in some parties hosted in bars and nightclubs introduced above. These are 7 highly-recommended entertaining destinations for those who want to have impressive memorable experiences about Da Nang nightlife during their trip to Da Nang – the central coastal city of Vietnam.
Book a tour guide to have some amazing experience in Vietnam. Tooreest app will help you to spend a wonderful time at Vietnam.
Download the app available for Android and IOS.
Source: vina.com
Tags:
Nightlife
,
tour guides
,
Travel Fun
,
Travel to Vietnam
,
Travellers